Samuel Croft (Tomb v)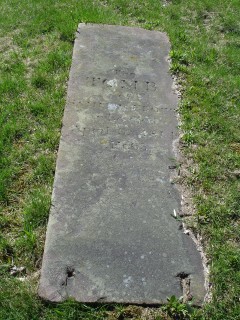 The TOMB of SAMUEL CROFT who died April 9th, 1814 Æt. 63
Soldier of the Revolution
Marker
S. A. R.
Susanna, widow of Captain Samuel Croft, Jr., d. in Brookline, Feb. 9, 1821, aged 70 yrs.
Captain Samuel Croft, Sr. d. Nov. 14, 1771, aged 71 yrs.
Mary, widow of Captain Samuel Croft, Sr. d. Oct. 31, 1772, aged 47 yrs. Their chn.:
Mehetable Croft, dau. of Samuel, Sr. bapt. Sept. 16, 1733. d. - wife of Capt. Jos. Fuller of Newton
Hannah Croft, dau. of Samuel, bapt. July 13, 1735.
Robert Croft, son of Samuel, by Mr. Cotton, bapt. Sept. 26, 1756. d. April 25, 1768.
Moses Croft, son of Samuel, bapt. Mar. 15, 1761. d. Apr. 2, 1761.
Lucy Croft, dau. of Samuel, bapt. April 4, 1762. d. Sept. 21, 1764.
F. P. C. R.
Susanna Backus, a faithful servant.
"At the time of his death in 1771 it was owned by his son Capt. Samuel Croft, Jr., who married into the Sharp family.
"Capt. Croft's house was a large, square, two-story house with a spacious front yard, well filled with trees and shrubbery. Behind the house was a deep ravine, and here was a spring of cold and excellent water, overshadowed by two very large buttonwood trees." H. F. W., p. 152.
They were without children, and as he was the only son who lived to marry, this branch of the family is extinct in the male line. By the terms of Mrs. Croft's will, made Nov. 3, 1820, she left part of the large estate to her nephew Samuel Craft to his heirs and assigns forever. The Crafts Family, p. 140.
"It has often been said by Brookline people that Susie was a slave, but this was not the case. Her father was a kidnapped African who served a blacksmith in Dorchester, and was called Backus. After the death of the blacksmith, the negro kept on with the business in the same shop, but assumed the more aristocratic and imposing title of 'Mr. Cleveland.'
"There was a poor Indian woman living in Brookline by the name of Molly Hill, and 'Mr. Cleveland' relieved his solitude and perhaps added to his importance by marrying her.
"Susy was the child of this marriage, but somehow the name 'Cleveland' would not stick to her, and she was always known as Susy Backus.
"After a four weeks' illness Susy died in 1863, probably eighty-four years of age, if not older, judging from her recollection of ancient events. The old Croft Tomb in Brookline Cemetery, which had not been unclosed for nearly forty years, was opened to receive the body worn out with a long life of toil for others, - and then closed up forever." H. F. W., p. 155 and 156.
Text from Harriet Alma Cummings. Burials and Inscriptions in the Walnut Street Cemetery. Brookline: The Riverdale Press, 1920.