Richard Boylston 1750?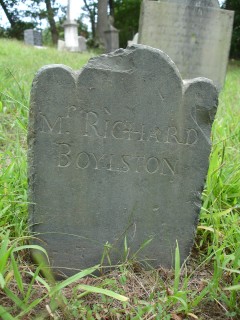 Footstone (only): Mr. RICHARD BOYLSTON
Perhaps Richard Boylston a cordwainer (son of Dudley Bolyston), of Brookline; estate (£27) admin. May 8, 1750. See Genealogies of the Families and Descendants of the Early Settlers of Watertown, Mass., by Henry Bond, M.D., Boston, 1860. p.90.
Dudley Bolyston's brother, Richard Boylston b. abt 1670; a cordwainer, of Charlestown, died April 25, 1752 aged 82 years and is buried in the Phipps Street Burying Ground, Charlestown.