Hugh W. Ogden (Lot 23)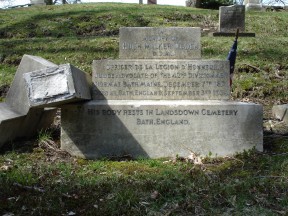 In
memory of
Hugh Walker Ogden.
d.s.m.,

Officer de la Legion d'Honneur.
Judge Advocate of the 42nd Division A.E.F.
Born at Bath, Maine, December 7th 1871.
Died at Bath, England, September 3rd 1938.

His body rests in Landsdown Cemetery
Bath, England.

Raised lead letters embedded in stone are often found in British cemeteries. The monument here could be a duplicate of the one in Bath, based upon the monuments visible in the second and fourth images below of Lansdown Cemetery.
Portrait photograph in military uniform from the University of Pennsylvania Alumni Records Collection.
Lt. Col. Hugh W. Ogden, Judge Advocate, was a co-author of Proceedings and Report of Special War Department Board on Courts-Martial and Their Procedure, July 17, 1919.
Col. Ogden was appointed Auditor by the Massachusetts Superior Court to hear evidence in the wake of the Great Molasses Flood of January 15, 1919. The hearings resulted in a 25,000 page transcript and numerous reports to accompany damage awards over a five-and-a-half year period. See Dark Tide by Stephen Puleo and Eric Postpischil's Molasses Disaster Pages.
Views of Lansdown Cemetery from the Bath Daily Photo: