Caleb Craft (Tomb i)


CALEB CRAFTS' TOMB. 1824.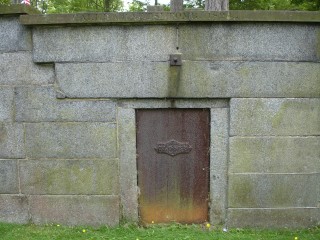 Soldier of the RevolutionLieut. Caleb Craft, Son of Deacon Ebenezer and Susannah (White) Craft, b. at Brookline, Aug. 21, 1741. d. at Brookline, Jan. 8, 1826. His first wife:
Eleanor Craft, dau. of Benjamin and Sarah (Aspinwall) White, b. Oct. 26, 1745. d. April 23, 1785, aged 39 yrs. His second wife:
Sarah Craft, dau. of Robert and Sarah (Payson) Sharp, b. Nov. 26, 1744. d. Dec. 14, 1810, aged 66 yrs. His third wife:
Jerusha (White) Craft, sister of his first wife. b. Aug. 1, 1749. d. Aug. 2, 1838, aged 89 yrs.
Ann Craft, dau. of Caleb and Eleanor Craft. bapt. May 24, 1767. d. Aug. 9, 1775, aged 8 yrs.
Ebenezer, son of Caleb and Eleanor Craft. bapt. April 30, 1769. d. Feb. 27, 1772, aged 2 yrs.
Ebenezer, b. Jan. 6, 1773. d. July 26, 1775, aged 2 yrs.
Caleb Craft, Jr. b. Dec. 10, 1783. d. July 11, 1860, aged 76 yrs. His wife:
Sarah (Richardson) Craft, d. Nov. 22, 1861, aged 78 yrs., 6 mos.Their chn:
Charles Craft, d. March 5, 1864, aged 47 yrs.
Elizabeth Craft, d. Sept. 21, 1856, aged 20 yrs.
John Newton Craft, d. Oct. 13, 1855, aged 17 yrs.
Caleb Francis Craft, d. Jan. 1845, aged 2 yrs.
Caleb Craft, 3d, d. at Needham, July 30,1875, aged 70 yrs. His wife:
Mary Ann (Richardson) Craft, d. at Boston, May 2, 1890, aged 86 yrs.
William F. Crafts.
Among the family papers are a great many military orders and receipts relating to the period of his service in the Continental Army. The earlier ones relate to the service in northern department of Canada; those in 1778 to the transports for Burgoyne's Army, and to service on Dorchester Heights, where he was in command of his company for a long time. Later ones relate to procuring men for service in 1781, 1782 and 1783. Copies of some of these papers are given in "The Crafts Family," page 163.
Lieut. Craft lived in the upper part of Brookline near Newton. In 1791 he bought his father's estate on Newton Street, Brookline, and lived there until 1812, when he left it to his son Samuel and removed to the South Street farm. This farm he also purchased of his father, it being the farm given to his brother Samuel by their grandfather, Samuel White, about 1775. He built on this farm in 1805. He resided there the remainder of his life, and afterwards it passed by inheritance to his son Caleb. Lieut. Craft also owned portions of the old Griggs and Chamberlin farms located in that section of the town.
He attended church in Brookline, and among the family papers is a receipt for 6 lbs. 13s. 4d. for a pew in "Brooklyn Meeting House" July 80, 1772.
In 1824, when he was eighty-two years of age, he had a family tomb built in the Brookline Cemetery, which contains the remains of three generations of the family. The Craft Family.
Charles Craft, who d. March 5,1864, and Caleb Craft, 3d, d. July 30,1875, were also removed Dec. 9, 1881, to Walnut Hills Cemetery.
Text from Harriet Alma Cummings. Burials and Inscriptions in the Walnut Street Cemetery. Brookline: The Riverdale Press, 1920.