Zabdiel Boylston (Tomb y)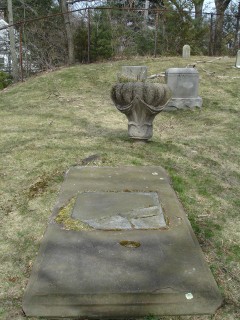 Sacred to the memory of

Zabdiel Boylston Esq.

Physician and F.R.S. who first introduced the practice of Innoculation into America Thro' a life of extensive Beneficence, He was always faithful to his word, just in his Dealings affable in his manners, and after a long Sickness in which he was exemplary for his Patience and Resignation to his maker he quitted this mortal Life, in a just Expectation of a happy Immortality on the First day of March A.D. 1766, Ætat. 87. With him lies here buried

Jerusha

, his wife, who died the Fifteenth day of April A.D. 1764. Ætat. 85.

Joshua Child Clark, bapt. Sept. 24, 1780. d. July 4, 1861, aged 80 yrs. 9 mos. 24 days. His wife:
Rebecca Boylston Clark, dau. of Joshua and Abigail (Baker) Boylston, bapt. Feb. 1, 1784. d. Jan. 14, 1825. Their chn:
Sarah Davis Clark, b. - d. Sept. 16, 1812, aged 1 yr. 6 mos.
Mary Sharp Clark, bapt. Dec. 15, 1816. d. Nov. 7, 1819.
Rebecca Boylston Clark, bapt. Oct. 22, 1815. d. Oct. 3, 1817. Aged 2 yrs. 1 mo.
Mary Sharp Clark, b. Feb. 26, 1820. d. Feb. 2, 1870. Aged 49 yrs. 11 mos. 7 days.
Mary Bartlett Clark, 2d wife of Deacon Joshua Child Clark, mar. Jan. 1, 1828. d. -
Sarah Davis Clark, d. Jan. 28, 1902. Aged 88 yrs. 5 mos.
Susanna B. R. Clark, d. April 23, 1900. Aged 77 yrs. 5 mos. 23 days.
Boston, a negro man of Dr. Boylston's, d. July 13, 1762, aged 50 yrs.
Mary Boylston.
A memoir of this distinguished man, (who was born in this town, in 1679, bapt. in the First Church, Roxbury, March 1, 1679, under the ministry of the so-called Apostle Eliot) was written by Dr. Peter Thacher, minister of the Brattle Street Church, Boston, and published in the Massachusetts Magazine for December, 1789. In consequence of high attain. ments in his profession, Dr. Boylston was elected Fellow of the Royal Society in London, a distinction very rarely conferred on natives of this country.
A plain monument to his memory may still be seen in our Cemetery. Dr. Pierce, p. 21.
Text from Harriet Alma Cummings. Burials and Inscriptions in the Walnut Street Cemetery. Brookline: The Riverdale Press, 1920.