Andem and Kendall (Tomb o)
MOSES ANDEM. 1836 HEZIKAH S. KENDALL.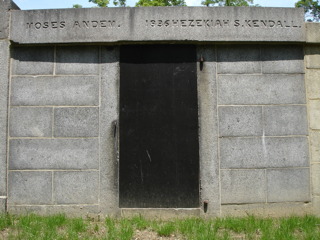 James Andem, son of Moses, ordained minister of Dighton, Nov. 13, 1845.
Dr. Pierce.
James Aspinwall Andem, son of James, d. July 1, 1839.
"Boston Curier," July 1, 1839.
Catherine B. Andem, wife of James, dau. of David R. Griggs, d. Sept. 16, 1839, aged 24 yrs.
"Boston Curier," Sept. 17, 1839.
Mrs. Andem d. in Brooklyn, N. Y. Buried in Tomb o. Jan. 19, 1884.
J. D. G.
Hezikiah Smith Kendall, son of Deacon Thomas, d. at Brookline, Sept. 28, 1836, aged 26 yrs. Independent Chronicle, Boston, Oct. 1, 1836.
Text from Harriet Alma Cummings. Burials and Inscriptions in the Walnut Street Cemetery. Brookline: The Riverdale Press, 1920.