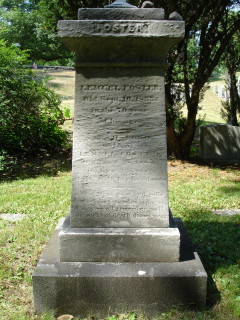 Lemuel Foster Obt. Sept. 10, 1855 in the 70 year of his age.
Marker
L. F.
Sarah Ford wife of Lemuel Foster Obt. Jan'y. 28, 1884 in the 95th year of her age b. in Bridgewater, dau. of Joseph and Elizabeth H. Ford.
"A I rest with her loved ones The day is past and gone The evening shades appear Oh, may we all remember well The night of death draws near."
Marker
S. F. F.
John Capen, Obt. Oct. 1, 1821, aged 5 months.
Marker:
J. C. F.
Mary, Obt. May 26,1824 aged 6 weeks
Marker:
M. F.
Mary Francis, Obt. Aug. 22, 1826 aged 1 year
Marker:
M. F. F.
Anne Maria, Obt. Feb. 21, 1832 aged 2 years 9 months
Marker:
A. M. F.
Sarah Elizabeth Obt. March 16, 1854 Aged 34 years
Children of Lemuel and Sarah F. Foster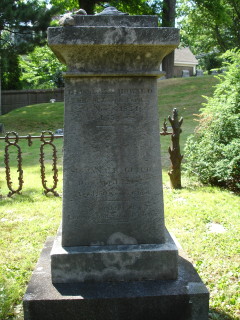 Elizabeth Howard wife of Joseph Ford Obt. Nov. 8, 1824. Aged 75 years
Marker
E. H. F.
Susanna H. Guild died April 22, 1873 aged 50 years 6 mos. Daughter of Lemuel and Sarah F. Foster
Marker
S. H. G.
George Rogers May 29,1851 Aug. 13, 1908