Isaac Adams (West of Lot 77)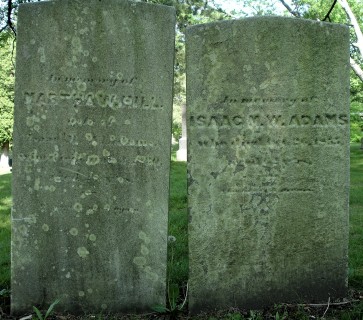 In memory of MARTHA W. HILL. wife of Isaac M. W. Adams who died June 3, 1830 aged 28 y'rs. We part to meet again
Footstone: M. W. H. A.
In memory of ISAAC M. W. ADAMS who died Oct. 26, 1855 aged 62 y'rs. This life is a dream
Footstone: I. M. W. A.
"He married Miss Martha Washington Hill of Portsmouth and after her death he had her name incorporated into his own by act of legislature, on this wise: 'Isaac Mahtra Wanshongtri Adams.'
"He was one of the first schoolmasters in the old brick school house on Walnut Street. William Hyslop gave to the town the triangular piece of ground in the fork of the roads, west of the church, for a site for the old brick school house in 1793.
"Requiescat in pace, Master Adams! We trust thou hast found the Great Master more lenient with thee, than thou wert to his little ones." H. F. W., Chap. XII. Pub. 1871.
Text from Harriet Alma Cummings. Burials and Inscriptions in the Walnut Street Cemetery. Brookline: The Riverdale Press, 1920.